Marianna Lignani- Anno 1825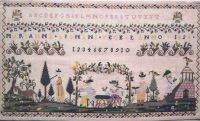 Marianna stitched this delightful sampler with the wonderful garden scene. The gentlemen are smoking long stemmed pipes and dressed in smoking robes. Informal dress, during this time period , was common for the middle class. They were imitating what, they thought, was going on with the elite. This entire scene could be from a possible print source. Mariana's sampler is of Italian origin, fece or feci means "made by" in Italian.
The entire sampler is worked in cross stitch except for the woman's hair, which is worked in straight stitches.


Size: On 40 ( 16 thr/cm) count linen it measures 11��? x 16.75'(28 cm x 42.5cm).
Thread Count: On 35 (14thr/cm) count it measures 12��? x 22��? (30.5cm x 56cm
Colour:
Recommended Level: Intermediate
Cost: Chart $26.00
Categories: Central & Southern Europe
ID: 275
All prices are in US Dollars.