EP (1838)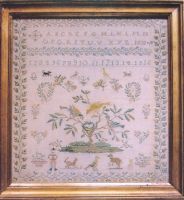 The use of the lovely pale colors and the large central motif point to "EP's" sampler being of Italian origin. As well as the fact that similar ones found had the name of the city on them. The symbol in front of the alphabet is like a "Christ's Cross" known as criss cross, denoting the sampler was made by a Roman Catholic. The alphabet following is known as a cross row. Titles (periods) seperate each alphabet letter. This sampler's main motif consists of a tree with a nest of eggs in the center surrounded by three birds and numerous spot motifs. All contained within
two lovely border patterns, another common feature on Italian samplers.
EP's sampler is worked entirely in cross stitch.
Size: Finished Size: 15 1/2" x17 3/4" (40cm x 45cm)
Thread Count: 40 count (16 thr/cm) on dyed linen.
Colour:
Recommended Level: Beginner
Cost: Chart - $22.00
Categories: Central & Southern Europe
ID: 177
All prices are in US Dollars.