IV CF - Circa 1700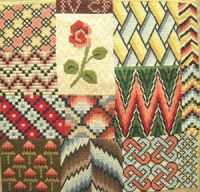 This brilliant German sampler was stitched in or around Nuremberg. The various pattern blocks seem to have been a favorite on the samplers from this area. They are found on numerous samplers in wonderful colours and a variety of stitches. All these patterns could be used on upholstery,
small bags, shoes, etc. The original sampler was from the collection of Emma-Henriette Schiff van
Suvero, Staaliche Kunstgewerbe Museum in Vienna from 1939-2003 when it was returned to the family.
Stitches used are Cross-stitch, Hungarian, queen, diamond queen, flame stitch, Algerian eye, tent, Roman, rice and satin.

Size: it measures 8.25" x 9" (21 cm x 23cm)
Thread Count: Worked on 30 count (12 thr/cm) linen
Colour:
Recommended Level: Intermediate
Cost: Silk $135.00 DMC $110.00 cht. $26.00
Categories: Dutch & German
ID: 279
All prices are in US Dollars.