DIRKJEN FRANSES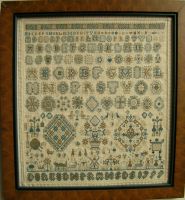 A stunning Friesian sampler with its use of only three colors. Dirkjen stitched four alphabets, each consisting of 19 letters, which is usual for Friesian samplers. The "I" and "J" are interchangeable, as are the "U" and "V". The "Q", "X", "Y" and "Z" weren't often used. She included many geometric motifs typical to samplers from the southwest corner of Friesland, Hindeloopen. The border across the top is another common element to these samplers. Some of the more unusual motifs are the "flap aan de want" ("flap on the wall" or folding table), glasses, children skipping rope, tea being served, and a dog licking from an overturned pot. As in numerous Friesian samplers, there is a delightful scene along the bottom, this one containing a beekeeper on the left, and numerous bees throughout. The original is in the Fries Museum, access no. FM 1957-34. Stitches used are cross, eyelet, stain and back stitch.
Size: Finished Size: 13 3/4" x15 3/4" (35cm x 40cm)
Thread Count: 40/35 count (16/14 thr/cm) linen.
Colour:
Recommended Level: Intermediate
Cost: Cht. $26.00
Categories: Dutch & German
ID: 237
All prices are in US Dollars.