IFK (1791)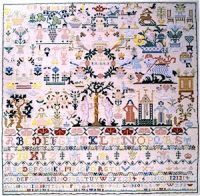 A splendid sampler combining the alphabets and numerous motifs from Hamburg as seen in the coat of arms of the city, two lions flanking a gate. Northern German samplers frequently contain many religious motifs. Certain Bible stories such as the crucifixion, Jacob wresting with the angel, Joshua and Caleb, Adam and Eve, Jesus with the Samaritan woman at the well, to name a few, were believed to be very instructional by the Lutheran church. Seen on this sampler also is the Lamb of God, Justice with her sword and scales, and numerous animals and flowers. From the Textile Museum in St. Gallen, Switzerland, accession no.20069. Ours is the only museum authorized reproduction available.
Stitches used are Italian cross, cross over one and tent stitch.
Size: Finished Size: 18" x 18" (46cm x 46cm)
Thread Count: 40 count (16th/cm) linen
Colour:
Recommended Level: Intermediate
Cost: Kit: DMC - $116.00 Silk - $143.00 cht.28.00
Categories: Dutch & German
ID: 211
All prices are in US Dollars.