MARIANE MOLLER (1820)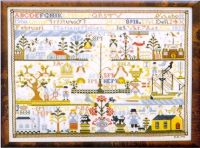 This delightful sampler has almost every inch covered with small scenes and spot motifs and at the center of it all are Adam and Eve. Included as well is the Jesu Gram, ship, mermaid, owl, hourglass, bird in cage and the crucifix to name a few. Mariane started or finished her sampler on
the 24th of February, 1820 and was seven years old at the time.
Reproduced from the Kunstindustrimuseet i Oslo, Norway, access no. OK6207.

Size: Finished Size: 11 1/2" x 14 1/2" (29.5cm x 37cm)
Thread Count: 35 count (14 thr/cm) on dyed linen.
Colour: Colors: Green, gold, rust, peach and mauve
Recommended Level: Beginner to Intermediate
Cost: Kit - 53.00 DMC Chart 17.00
Categories: Scandinavian
ID: 142